11 Fun Things to Do with Someone During Long Hospital Stays
When a family member or friend is staying in the hospital, daily visits are one of the best things you can do to boost their spirits. But the visits can get old fast if you do the same thing every time, and there are only so many care packages of snacks and hospital clothes you can bring before the room gets too crowded. To keep both of you entertained, here are 11 ideas you can try to have fun and pass the time together during a long hospital stay:
Update them on family events.
One of the many things that people dislike about long hospital stays is the way they become separated from their family and friends. To help bridge the gap, give them regular updates about what's happening outside the hospital. Bring along photos, videos, little souvenirs and other things that you can show them to make them feel like they're still part of the group no matter how long they have to stay in the hospital.
Read a book together.
If your loved one is a big reader, then reading books aloud to them in the hospital is a great way to pass the time. If they are foggy from medication or surgery, choose an old favorite to re-read or pick a new book with an easy plot that won't require too much brainpower to follow. If neither of you feel up for reading out loud, consider downloading an audiobook from your library that will do it for you.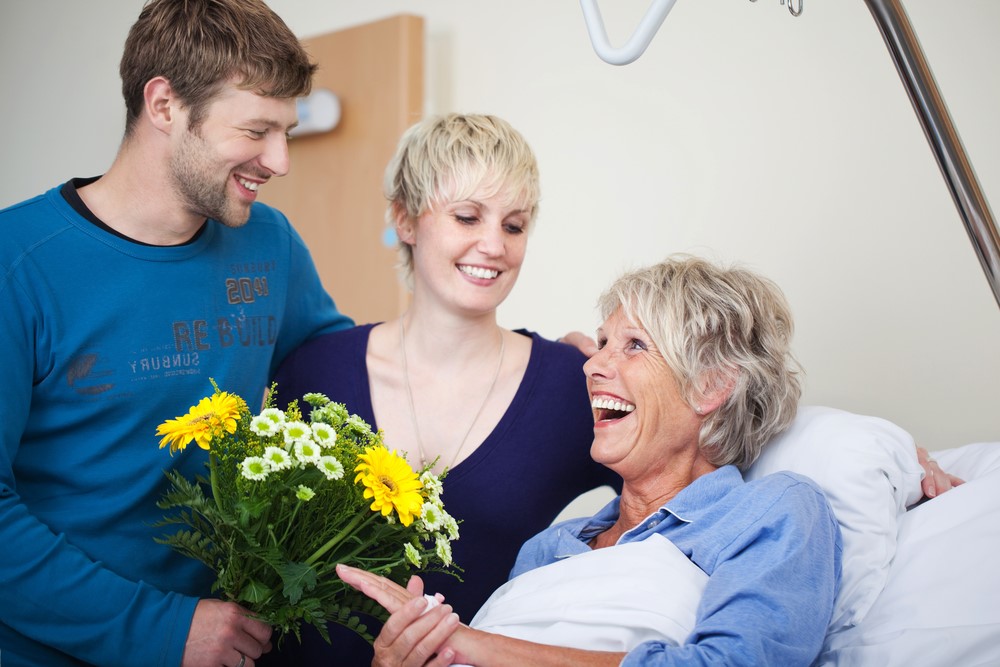 Listen to a podcast.
If an audiobook isn't to your tastes, then you may enjoy listening to a podcast instead. Many podcasts come with self-contained episodes, although there are some narrative ones as well that tell a story over multiple episodes. Unlike the radio, podcasts can be downloaded and then played on demand, which is ideal for a hospital where you may not have a strong signal.
Watch a beloved movie or TV show.
Hospital rooms often have TVs, but the channel selection is usually limited. Even if the TV stations include a favorite show, your loved one might not always be awake when it airs, especially if their sleep schedule is erratic. Instead, download a computer or tablet with your loved one's favorite movies and TV shows so you can watch them together whenever you want.  We recommend downloading them ahead of time because many hospital Wi-Fi networks are not strong or reliable enough to support streaming video content.
Listen to music.
When your loved one doesn't have the energy to engage with anything, but still wants something to focus on, playing their favorite music is a good option to have on hand. As with the movies, we recommend downloading their favorite music to a phone or another device so that they can stream it even if the Wi-Fi is spotty. Try to get a blend of artists and playlists so they can play something upbeat or calming, depending on their mood.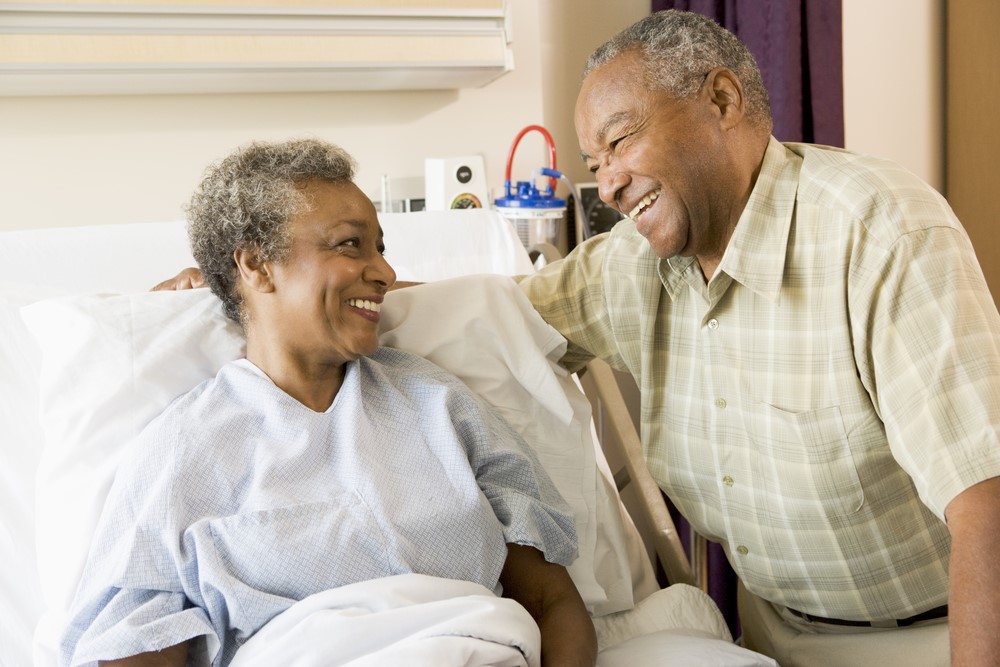 Play games together.
Games of all kinds are excellent options for passing time in the hospital. Board games are obviously a popular option, but they can be difficult if your loved one has to stay in bed, so you may find it easier to play card games instead. Other types of games, including crosswords, jigsaw puzzles and Sudoku, can be done solo but are easier and more fun to play with someone else.
Do a simple craft.
This is a great idea if your loved one has a hobby that is easily portable and doesn't require a lot of equipment, such as knitting or painting. If your loved one's hobby doesn't fit that criteria — for instance, carpentry or fishing — then you can still help them experience it vicariously by watching YouTube videos together or encouraging them to take an online class while they are confined to the hospital.
Have a self-care spa day.
Being in the hospital can be really hard on your skin and hair, so a self-care day is sure to be appreciated. Help your loved one shower and wash their hair if they feel up to it and then dress them in a clean hospital gown and hospital socks and moisturize their skin to help combat the dry hospital air. Then, paint their toenails, braid their hair, apply some lipstick and other self-care activities that will make them feel more like themselves.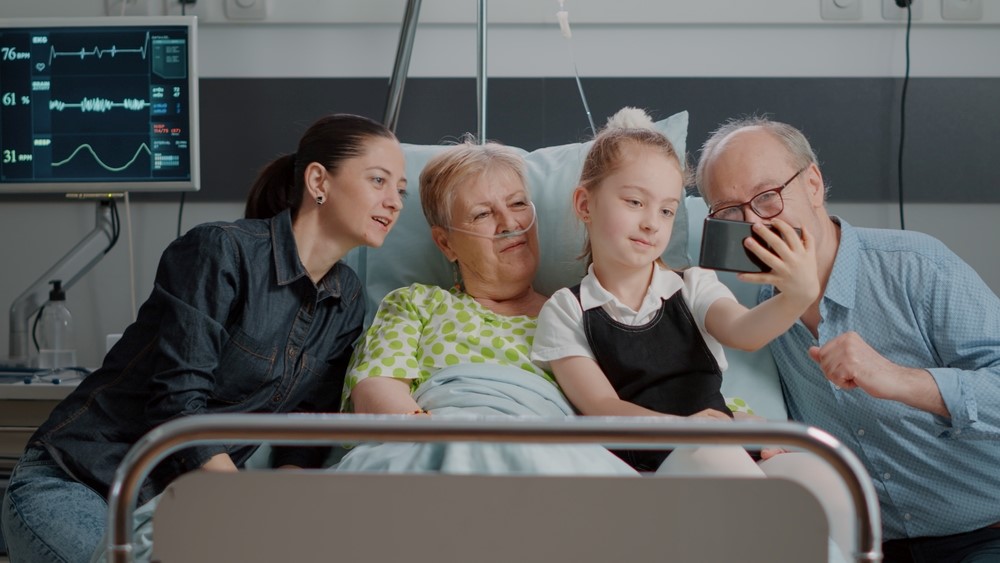 Experiment with journaling.
Being in the hospital, especially for a long time, is likely to dredge up some feelings — not all of them pleasant. Lying in bed in the hospital also gives people time to ruminate on the past and reflect on what decisions they have made. Many people find it helpful to journal about their feelings to help them process everything they are experiencing. If you think that this would help your loved one, get each of you a journal and offer to do it with them.
Try meditation.
In a similar vein to journalism, meditation or other forms of mindfulness can help them manage their emotions and promote mental resilience. If your loved one is new to meditation, offer to help them by finding guided meditation apps or recordings and making the room a calming sanctuary. If they are religious, they may also find solace in prayer, listening to sermons and other spiritual practices.
Go for a walk.
Walking is essential for promoting good health and lowering the risk of blood clot formation. As long as your loved one is not on bed rest, their doctor will probably want them to get up and walk frequently. Assisting them with walking will ensure they always have someone there for support and break up the routine for both of you.
Are there any other ideas that we missed or fun things you have done with a loved one during a long hospital stay? Add them in the comments below so other people can learn from your experience!