Pearly Penile Papules (PPP)
If you take great care of your reproductive health, it can be worrying to discover pearly penile papules (PPP) on your penis. This article covers all you need to know about PPP. You'll learn when to be concerned, whether this condition is contagious, and the treatment options available.
Read on to find out more.
How To Identify Pearly Penile Papules (PPP)
Pearly penile papules are small, benign bumps that might appear on your penis shaft or head. In most cases, they may grow in adolescence or early adulthood. Usually, they look like tiny pink, yellow, white, or skin-colored dots with a pearly sheen. They also appear in rows, will be raised off your skin, and are typically 1-4 millimeters long and 1-2 millimeters wide.
Penile papules cause no pain or itching. So, there's no need to buy lotions or pain relievers if you notice these bumps. They have no accompanying symptoms and shouldn't be cause for alarm. Penile papules may not have a known cause, and medical professionals may view them as benign or harmless. Furthermore, these are not contagious. In some cases, experts will call PPP a skin condition rather than a disease.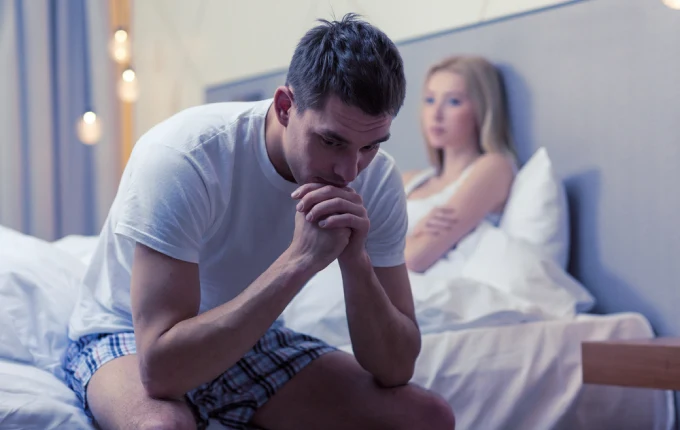 When Should You Worry About PPP?
The only time to be concerned about PPP is when other symptoms go with the bumps. Many confuse PPP with genital warts, molluscum contagiosum, and other sexually transmitted infections (STIs). Knowing the causes and symptoms of different illnesses can help you identify PPP.
Differentiating Penile Papules From Genital Warts
Medical experts consider genital warts an STI caused by human papillomavirus (HPV). Like penile papules, genital warts are also small bumps.
However, unlike PPP, genital warts may cause mild pain, bleeding, or itching. Also, they appear in irregular shapes that might look like cauliflower. Genital warts may seem raised or flat and have a rough texture. These bumps won't only appear on the penis but might also grow on other parts of the body, such as the scrotum, throat, thigh, mouth, lips, anus, and groin.
Genital warts can spread from one person to another. However, they're treatable, and you can prevent them by practicing safer sex. So, if you suspect your bumps aren't PPP but genital warts, seek medical help as soon as possible.
Differentiating PPP From Molluscum Contagiosum
Poxvirus causes molluscum contagiosum. Unlike penile papules, this infection's bumps are round, raised, and skin-colored with a dot or dent at the top. Also, they don't only appear on the genitals but may be found anywhere on your body.
Molluscum contagiosum is also contagious. It can spread through sexual contact and sharing personal items. One can also pass the virus by feeling or scratching a bump and touching their body without washing their hands.
Medical professionals might also consider molluscum contagiosum harmless. Seeking treatment may not be necessary as the bumps go away eventually.
Consult a medical expert if you're worried about spreading molluscum contagiosum. If you've undergone treatment that lowers your immunity or the bumps are on your neck or face, seek help, too.
Genital warts and molluscum contagiosum are the most common issues confused with PPP. However, other STIs cause bumps on the genital areas and other body parts. If you aren't sure you have an STI or PPP, consult a medical professional. They'll provide effective diagnosis and treatment.
Do You Need PPP Treatment?
Penile papules are harmless and painless benign bumps. So, treatment may not be necessary. If you're concerned about the spots or they're negatively affecting your relationship, seek help. A dermatologist or urologist can get rid of PPP through different procedures.
The options available are the following:
Laser therapy involves using infrared rays to get rid of superficial tissue layers. The treatment could eliminate unusual growth caused by PPP and ensure smooth skin. Most people may prefer laser therapy to other treatments because it's less painful.
Cryotherapy involves using liquid nitrogen to eliminate pearly penile papules by freezing them. An expert may also use other tools to freeze the growth with controlled nitrous oxide bursts.
Cryotherapy has been used to get rid of harmful tumours. It could also be an effective treatment for PPP.
Electrodesiccation And Curettage
A specialist may use electrodesiccation and curettage (ED&C) to eliminate PPP. It involves electricity application on a targeted area to burn unwanted tissue. This treatment should only be done by an experienced professional. Otherwise, you risk severe burns, disfigurement, and scarring.
Generally, only a well-trained specialist should perform all the above procedures. This way, you'll avoid side effects like severe pain, bleeding, infections, skin problems, and scarring.
If you choose to let PPP heal normally, don't use over-the-counter medications or applicants without consulting a health expert first. Some products may cause more harm. It's also best not to pop or cut off the spots. Doing so can lead to injuries, infections, or scarring.
Final Thoughts
Contrary to what many think, penile papules are quite common in men. These small benign bumps may grow on your penis shaft or head. The spots will seem white, pink, yellow, or skin-colored. However, they're painless and don't cause itching. Typically, they have no symptoms, and medical experts consider them harmless and non-contagious. So, the spots are no cause for alarm unless other symptoms accompany them.
If you notice pearly penile papules on your penis, don't worry, the bumps will go away on their own. However, consult a professional if you're worried about these spots or if they're negatively affecting your relationship. They'll use laser therapy, cryotherapy, or ED&C to eliminate them.