Relax and Wind Down at Night
Do restless evenings and an overactive mind keep you from getting a good night's rest? Achieving a peaceful slumber is vital to maintaining optimal health, and discovering effective relaxation techniques can transform your nightly experience. In this article, we investigate 10 innovative methods, including the use of a weighted blanket, to assist you in releasing tension and drifting into a rejuvenating sleep with ease.
1) Create a Calming Environment
Designing a serene and peaceful environment can profoundly affect your ability to unwind. Begin by reducing the brightness of your lighting and opting for gentle, warmer hues or the soft glow of a Himalayan salt lamp. Next, take note of the room's temperature and adjust it to a comfortable level to create a cozy sanctuary.
To limit external noise, consider using noise-canceling earplugs or ambient white noise from a fan or machine. To enhance the experience, you might also try draping a plush, weighted blanket over your shoulders for a sense of comfort and security.
2) Design a Serene Sleep Routine
Setting aside time for a bedtime ritual can help signal to your body and mind that it's time to unwind and prepare for rest. Consider starting with a warm shower or bath and adding a few drops of your favorite essential oils, like lavender or chamomile, to create a soothing and fragrant atmosphere.
Mindfulness practices such as meditation or deep breathing exercises can also help quiet the mind and promote relaxation. If you find it difficult to focus, try using a weighted robe after your shower or bath to help ground you and ease tension in your body. Then, with a consistent bedtime routine, you'll be able to ease into a restful sleep and wake up feeling refreshed.
3) Unplug and Unwind
In today's technology-driven world, it can be challenging to disconnect from screens and allow ourselves to fully relax. However, setting aside time to unplug from technology can work wonders for our mental and physical well-being. Establish a screen-time limit before bed and make it a habit to keep electronics out of the bedroom.
Instead of using electronics, engage in calming activities like reading a book, taking a warm bath or simply enjoying a moment of silence to help you wind down. Limiting your blue light exposure will do wonders for your circadian rhythm.
4) Savor a Soothing Beverage
A warm, comforting beverage can be a delightful addition to your evening routine. For a soothing experience, try indulging in herbal teas like chamomile, valerian root, lemon balm or passionflower, all known for their relaxing properties. Likewise, a warm cup of milk with honey and cinnamon can do the trick if you prefer a creamy and indulgent drink. Keep in mind that it's essential to avoid caffeinated options that could disrupt your sleep. This includes beverages with chocolate, which is known to include caffeine.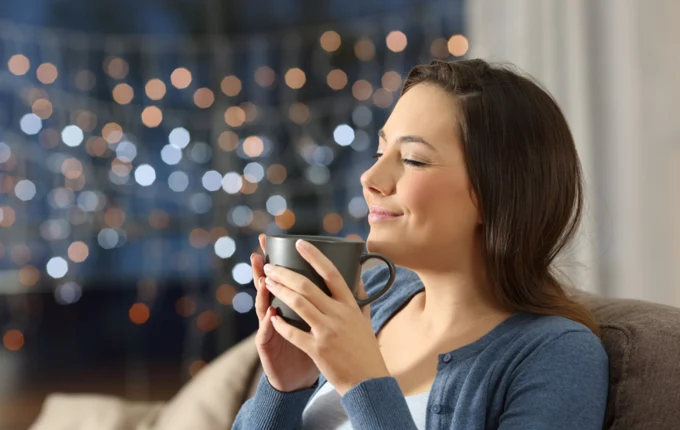 5) Engage in Gentle Movement
Moving your body in gentle ways can help ease tension in your muscles and promote relaxation. Consider incorporating gentle stretches, restorative yoga poses or foam rolling into your evening routine. You can also experiment with calming practices like tai chi or qigong to promote mindfulness and relaxation. By engaging in gentle movement before bed, you can set the stage for a peaceful and restful night's sleep.
6) Embrace the Comfort of a Weighted Blanket
Weighted blankets have been shown to offer therapeutic benefits by providing deep pressure stimulation, which can help reduce anxiety and promote relaxation. When selecting a weighted blanket, it's important to choose the appropriate weight for your body type and consider the material for breathability.
For those who tend to overheat at night, a cooling weighted blanket made of breathable materials like bamboo or cotton can be a great option. The added weight combined with the cooling properties can help you feel grounded and relaxed, allowing you to drift off into a restful sleep. So, snuggle up with a cooling weighted blanket and let the stress of the day melt away.
7) Tune into Tranquil Sounds – Relax and Wind Down at Night
Music and sounds can have a powerful effect on our moods and emotions. To create a peaceful ambiance, consider playing calming instrumental music or natural sounds like rainfall, ocean waves or forest sounds. These soothing sounds can help drown out external noise and transport you to a tranquil state of mind.
For those seeking a more immersive experience, binaural beats or delta wave recordings can help your brain transition into a relaxed state, making it easier to fall asleep and stay asleep.
8) Indulge in the Benefits of Aromatherapy
Aromatherapy can be a powerful tool for promoting relaxation and reducing stress. Essential oils like lavender, bergamot and ylang-ylang have been shown to help calm the mind and soothe the body. To incorporate aromatherapy into your nighttime routine, use a diffuser, room spray or pillow spray to disperse the scent throughout your bedroom.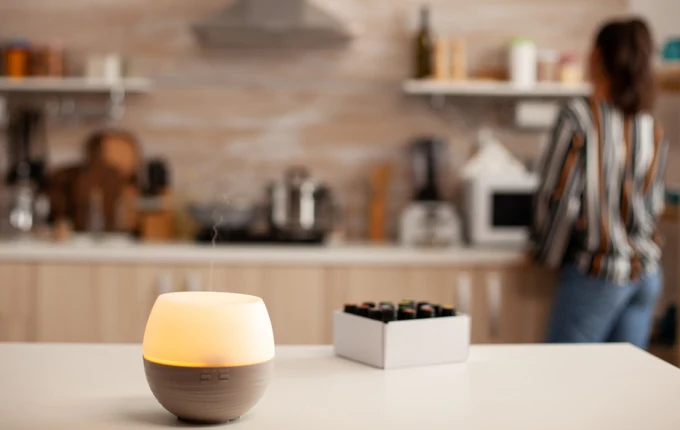 9) Unwind with Progressive Muscle Relaxation
Progressive muscle relaxation is a technique that involves sequentially tensing and releasing muscle groups throughout the body, helping to release physical tension and promote relaxation.
This practice can be done before bedtime to maximize its benefits. Begin by tensing the muscles in your toes and hold for a few seconds before releasing. Then, gradually work your way up the body, tensing and relaxing each muscle group. As you release the tension in your body, allow your mind to follow suit and drift into a state of calm and tranquility.
10) Cultivate an Attitude of Gratitude
Gratitude is a powerful emotion that can help shift our focus away from negative thoughts and promote feelings of happiness and contentment. Incorporate gratitude into your nightly routine by taking a few moments to reflect on the good things in your life.
For example, you can write down three things you're grateful for or share them with a loved one before bed. This practice can help reduce stress and anxiety, promote positive emotions and set the stage for a restful night's sleep. By cultivating an attitude of gratitude, you can cultivate a more positive and fulfilling life.
Final Thoughts
Relax and Wind Down at Night – Implementing these 10 ways to relax and wind down at night can significantly improve your sleep quality and overall well-being. Experiment with different techniques to find what works best for you. Remember that consistency is essential in establishing a calming nighttime routine. Finally, don't hesitate to share your favorite relaxation methods with others, as we can all benefit from a good night's sleep.